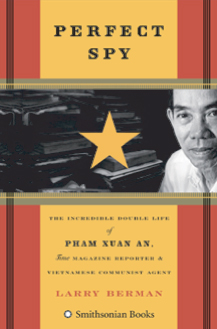 A fair-minded, consistently interesting attempt to unpack the "boxes within boxes in An's life"; and a fascinating contribution to our understanding of America's defeat in Vietnam.
Kirkus Reviews
Without glossing over An's responsibility for American deaths, Berman portrays an attractive, sometimes tragic figure.
Publishers Weekly
A remarkable blend of biography, history, and personal experience... a fascinating account of a complex man who loved his homeland, as well as the United States and the profession of journalism. Highly recommended for both public and academic libraries.
Library Journal
During the Vietnam War, Time reporter Pham Xuan An befriended everyone who was anyone in Saigon, including American journalists such as David Halberstam and Neil Sheehan, the CIA's William Colby, and the legendary Colonel Edward Lansdale not to mention the most influential members of the South Vietnamese government and army. None of them ever guessed that he was also providing strategic intelligence to Hanoi, smuggling invisible ink messages to the jungle inside egg rolls. His early reports were so accurate that General Giap joked, "We are now in the U.S. war room." For more than twenty years, An lived a dangerous lie and no one knew it because he was a master of both his jobs. After the war, An was named a "Hero of the People's Army" and promoted to general - one of only two intelligence officers to ever achieve that rank.

In Perfect Spy, Larry Berman, who An considered his official American biographer, chronicles the extraordinary life of one of the twentieth century's most fascinating spies.